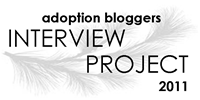 Thanks again to Heather at
Production Not Reproduction
for setting up the
Adoption Bloggers Interview Project
. Heather paired together 120 bloggers for the project this year. I had a chance to be introduced to a blogger that I didn't know; I got to read through her posts and send her interview questions in order to get to know her better.
I would like to introduce you to Claudia from
My Fascinating Life
. Claudia is an adoptive Mum to boy/girl twins from Ethiopia. Be sure to check out her blog for some very cute videos of her wee ones.
---
Let's start off with 10 quick questions to get to you know you better:
WHERE WERE YOU BORN? Brisbane, Australia
WHERE ARE YOU LIVING NOW? Just off the M4 in not-so-sunny England
WERE YOU NAMED AFTER ANYONE? My first name - no. My middle name (Margaret, lucky me! Not) was a family name on both my mother's and father's side.
DO YOU LIKE YOUR HANDWRITING? Yes.
DO YOU STILL HAVE YOUR TONSILS? No! I had them out when I was 25. So much more painful than I would have imagined.
DO YOU UNTIE YOUR SHOES WHEN YOU TAKE THEM OFF? Yes.
WHAT IS THE FIRST THING YOU NOTICE ABOUT PEOPLE? Their skin. I am terribly jealous of people with beautiful, smooth skin. Mine is blotchy and rashy.
WHAT COLOR SHOES ARE YOU WEARING? Blue metallic.
WHAT ARE YOU LISTENING TO RIGHT NOW? For once - nothing
DO YOU HAVE A SPECIAL TALENT? I am learning to play the ukulele!
---
Twins! How long before you brought the twins home did you know that you had been matched with them? Did you hope to matched with twins, or was it a surprise? We had hoped to be matched with twins, but didn't expect that it would ever happen! We were matched with them about two months before we officially became their parents - but the first three weeks of parenting were in a hotel room. I love your post "TWO" What is the best and worst part of having twins?
I don't think there's any easy way to have two kids (or one kid, for that matter...) I think the uniquely difficult thing about twins is that both your kids need the SAME thing from you at the same time, and that's usually impossible to do. Also, when they fight? Nobody is older so I can't expect either of them to take the high road! The best thing... honestly, it's probably that people make lots of allowances for my messy house, my lateness, my delay in sending interview responses (!) because of them! Oh yeah, and the adorable cuteness. But mostly the making allowances.
---
What prompted you to write about "The Wall"? It is such an amazing post! Have you considered submitting it to adoption professionals to use in their training?
I'm glad you liked it! I don't actually know any adoption professionals so honestly, I hadn't considered that. If any of them read your blog and want to use it, drop me an email! As to why I wrote it.... firstly, I am in the middle of trying to put together a list of links about adoption that I hope will be useful for prospective adoptive parents (and those of us already parenting). I'm trying to include lots of different perspectives and lots of different topics, and one of the topics is 'adoption ethics'. I've read a lot about it in the last few years, but I couldn't find a post that summarised any kind of a cogent position... this frustrated me. Along similar lines, I heard a lot of people disagreeing about ethics online when what I actually think they were disagreeing on was a definition of what ethics WAS.
Secondly, we were involved in searching for more information and contact with our children's first family a few months ago. What we found out was not quite what we expected... but we still felt like our adoption was 'ethical'. As my husband and I were talking about it I found myself coming to a position on WHY I thought it was ethical - before those conversations I had never actually put into words what I thought were the basic criteria for an ethical adoption. I doubt most people have; it's more difficult than it sounds! It's easy to see what an ethical adoption is not; it's much more difficult to say what it is. That's when I realised why I couldn't find a summary-ish ethics post - I didn't think one had been written, so I decided to give it a go. That's probably more information than you wanted on that question! But yeah, that's why I decided to put my butt on the line with that post.
---
Adoption ethics are obviously very important to you. What are your thoughts on the adoption practices in currently happening in the UK? I've put some links to what I have read below. Are these a fair representation of what is happening today?
Article 1
Article 2
Article 3
Article 4
Ooooohhhh.... very interesting question. Adoption in the UK is a really difficult topic to discuss, because it's a topic where it's really difficult to get reliable information. There are a few reasons for this: probably the most significant is that adoption is all from foster care, and therefore it's all controlled by local councils (and a few voluntary agencies). These all operate independently, and have hugely different ways of working. So, one person (in Birmingham, say) can have an experience that differs vastly from another person in Leeds.
Also, a few of the national papers seem to have strong agendas to push when it comes to adoption. The most common seems to be the story of the lovely, white, middle class couple who were refused permission to adopt because they were too lovely, white and middle class. Does this stuff really happen? I think it probably does. But is it normative? I'm not really convinced that it is - partly because it seems that the same stories about the same lovely, white, middle class couples get recycled ... and recycled... and recycled. One of the stories you linked to is about one of those couples! I'm sure there is some bad social worker practice going on, but I hope it's not as widespread as the newspapers would have us believe. What we never hear is - what sort of child were those couples looking to adopt? Were they just wanting very young children? If that is the case, well, maybe they were rejected because the council really didn't need any more PAPs who were looking to adopt young kids. Maybe they already had plenty, and if we're really interested in child welfare then surely that's fine? If they were interested in sibling groups, older kids, I'd be much more concerned that the councils really were losing out on potential resources that they could have used to find children a new home.
One issue that does seem to be very real in domestic adoption over here is the (seemingly unnecessary) length of the court proceedings. When it takes a long time to make placement decisions because work is underway to reunify parents and children? Fantastic! But when that's not the case... what a waste. This is another area where it's really hard to get reliable information because the proceedings of the family court are extremely, utterly, top-secret, to a degree that means it's impossible to scrutinise what is happening.
Having said all of that... I'm not any kind of expert on domestic adoption over here. I do find the way that information is presented in the press to be very frustrating... but that's probably largely because analysing information is my non-mum job!
---
"we have zero non-foster-care domestic adoption". How does that work? If I were pregnant and knew that I couldn't raise my child, what option would I have?
Do you know? I honestly have no idea. I think that relinquishment (if that was what you wanted) would have to be done through the foster care system. And personally, I don't think that's a great solution because it means the woman has even less power than in a US relinquishment - I don't think she would be able to choose a family, or choose a level of openness.
---
Do you think that there is a place for non-foster-care domestic adoption?
Yes, I think there is, in theory, although it's something I have no personal experience with. I think that there's probably somewhere in between the UK system (at the mercy of foster care) and the US system (at the mercy of adoption agencies) that would probably work better than either. I'm not sure that any of us will ever see it!
---
While your children may still be quite young, do you talk to them about adoption? their past? their birth country or their first family?
Yes! All the time.
---
"At the beginning of thinking about adoption we were really concerned about choosing a country, but in the end it didn't really feel like a very difficult decision at all." How did you ultimately decide on Ethiopia ?
You know - this probably should be more profound than it really is, but it was a process of elimination for us. There aren't really any adoption agencies over here, so we knew we would have to do it all ourselves - in the end, we looked for a country with an ethical system in place where we would be eligible, where we knew people had successfully managed to navigate the system, and for us that was Ethiopia. When we were deciding, back in 2008, the situation in Ethiopia looked very different from how it does now- in lots of ways. It freaks me out that if we had chosen differently, we would never have met the two wonderful kids who are sleeping upstairs right now. Sometimes I feel uncomfortable talking about how we made our choices because I feel like there should have been more to it than that, but it seemed like Ethiopia was a place where there really were kids in need of homes, and we jumped. Simple as that, really.
---
What is your favorite blog to read? What makes it your favorite?
This is almost the most difficult question of all! I read a TON of blogs (more than I should...) and it is impossible to pick one favourite. I can tell you the first blog that I ever read start-to-finish because I was so hooked - at the time it was called '
The Road To Our Own
'
And I loved it because I read this
post
and when I read the section at the end about isolation, it was the first time I ever thought 'oh, YES! THAT's what I feel!' from reading a blog post. I'm glad to say that I don't feel like that any more- and I'm pretty sure Lori doesn't either. But really, I think that Lori (and that post in particular) are to blame for how many hours I've wasted checking my google reader in the last three or so years. Thanks, Lori!